The world has hit the pause button, and life as we know it has come to a halt. Before we press the play button, let's think about the new future we are creating. There is no doubt that art will be part of that future. How could it not be? Art has been part of the human existence for 40,000 years. Seeing how Peoria arts organizations and artists immediately rose to the challenge of shelter-in-place with online offerings, it's clear the demand is as strong as ever.
The bigger question to consider is how artists will play a vital role in Peoria's future. Our community needs their creativity, innovation, passion and vision not only to survive, but to thrive.
Businesses know that a strong brand attracts and keeps customers. Branding Peoria as a forward-thinking cultural center means that a new generation of creative thinkers and problem solvers can come to Peoria, stay in Peoria, and thrive. The headlines will be filled with stories of renaissance in a city where public art thrives, artists flourish, and every child is given choices for opportunities to learn the arts. The name Peoria will be synonymous with creativity and innovation. We've reinvented ourselves in the past, and we can do it again. The good news is that some of this work has already begun. And with that, we offer our views of this future.
ArtCorps Mentoring
Think Peace Corps or PeoriaCorps, but in the context of art. With ArtCorps, veteran artists mentor emerging artists, who in turn work with children. Children not only gain self-esteem by creating something, they learn the 4 C's of art: creativity, communication, collaboration and critical thinking. These are both valuable life skills and transferrable job skills. The goal is not for every child to grow up to become a painter or musician, but to grow their ability to innovate and create. Through the arts, children develop the skills to critically think about and solve the problems that will arise in the future.
Peoria is fortunate that so many initiatives are already meeting these needs, including the Peoria Riverfront Museum's Every Student Initiative, Peoria Art Guild's Mentorship Apprenticeship Program, Romain Arts & Culture Community Center classes, and Big Picture Initiative's public art programs. Reinforce these opportunities with the 2016 Illinois Arts Learning Standards and Peoria Public Schools' current strategic planning to transform education, and we are poised to bring the arts alive.
What is needed to enhance the success of these efforts is a cohesive plan of how everything fits together. Arts organizations are working together to support each other, but there is also competition for funding. With a collaborative roadmap to the future, we will get there.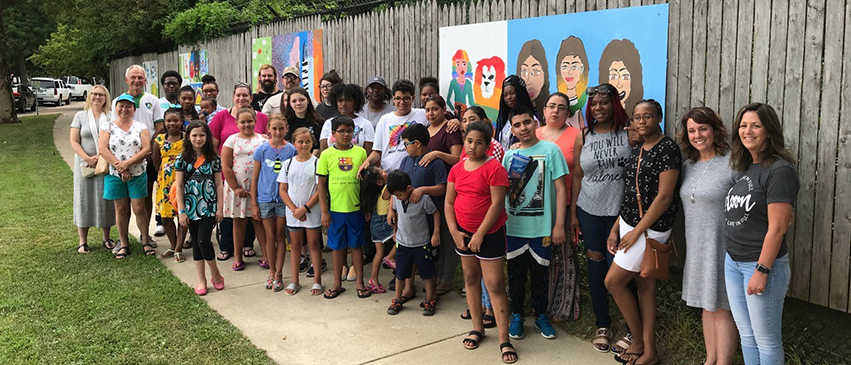 Leading in the Virtual World
When physical doors closed for shelter-in-place, virtual doors opened in their place. That wave will no doubt continue, as an already-overflowing internet becomes a tsunami of online performances, art galleries, museums and professional classrooms.
Just having a website or a Facebook Live event will no longer be enough as viewers become more discerning about quality and professionalism. Sound engineering, lighting, presentation skills, hair styling, and every other aspect of the film and recording industries will come into play. Think of the difference between a Hollywood movie and a home movie. Which one do people pay to see?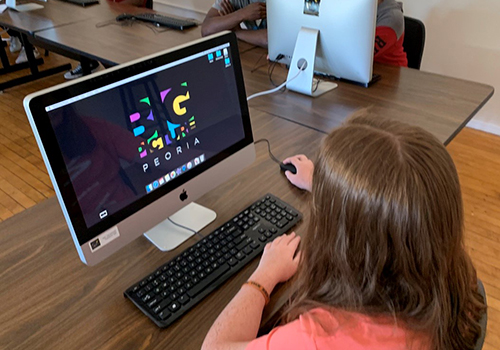 This new potential provides a huge opportunity for Peoria. Our economic development plan needs to include a training center—brick-and-mortar, as well as virtual—for what is now coming to life online. Local artists would play an immediate role, and as creatives choose to move from the wall-to-wall congestion of larger cities, Peoria can welcome them as valuable members of our community.
Consider also that once doors are open to the public, new distancing rules could mean fewer seats in the performance hall. Artists and venues will need to cover their costs, so pay-per-view seats will spring up. With high-quality sound, video and lighting, and online discussion sites linked to the performance, attendees can have the same dynamic experience as actually being there. This is the future we need to address by laying the foundation now.
The Arts & Healing
Becoming a center of healing requires that we pay greater attention to the transformative powers of the arts. The U.S. Department of Veterans Affairs is no stranger to its healing power. For over a decade, the VA has incorporated art into treatment plans and successfully used the arts to help veterans experiencing post-traumatic stress disorder. Other national health and wellness organizations have not been immune to this power—not only choosing to display art, but hosting concerts and offering arts classes. Research abounds on the benefits.
In early 2019, Ronald McDonald House Charities reached out to Big Picture Initiative to discuss how to get art into the new Peoria House. The two organizations came up with an Art Gala, which included the opportunity for sponsors and donors to support the House by purchasing local artwork. The event was a huge success, and today the House is filled with more than 200 pieces of art, while local artists were paid for their talents.
Our goal is to encourage every medical and wellness facility in our community to institute policies that not only include the placement of art, but the payment of artists. We envision a future in which Peoria becomes a living example of how arts organizations, arts educators, arts therapists and artists can collaborate to identify ways to work more closely with the healthcare and wellness industry.

The Value of Beauty
As we rebrand ourselves into a center of arts and culture, Peoria needs to look like it. Many of our downtown buildings, however, still seem to be doing their best not to draw attention to themselves, but rather, whisper how utilitarian they are.
There are many economic reasons to support public art. It boosts recognition of a business, increases foot traffic, fosters the growth of small shops, and brings in tourists with their spending dollars. And of course, there are plenty of emotional and aesthetic reasons to support public art as well.
With nearly 40 public murals in Peoria today, many building owners are already believers. "My initial vision was to allow artists who may not be able to show their work in public very easily to have a venue," explains Chuck Gabbert of C.T. Gabbert Remodeling & Construction. "I created the CT Gabbert Art Park with interchangeable murals in the parking lot of my business. I want to give people a reason to smile, and art does that."
When John and Gina Wetzel purchased the building at 926 SW Washington Street, they approached Big Picture Initiative about creating the Washington Street Gallery. "We are both lifelong Peoria residents who love our city and its cultures," Gina explains. "We see positive things happening in the downtown… and we want to be a part of it. By adding this artwork, we hope to open people's souls to the beauty of our community."
In this future we envision more businesses and city governments will not only recognize the economic value of public art, they will support it and pay artists for their creative talents.
We Can Do This ​​​​​
What will it take to realize this new Peoria? Vision, action and collaboration. The rapport, energy, ideas and achievements that grow when a community of creatives put their minds together can indeed change the world. At this very moment, artists, arts organizations and arts supporters are in their homes creating and drawing inspiration from beautiful art, giving us a reason to rejoice in our common humanity when we are able to gather together again. Our community needs to tap into their passion and inspiration to rebrand Peoria as the center of the universe. PM
Doug and Eileen Leunig are founders of Big Picture Initiative, which focuses on increasing community vibrancy though public art, hosting interactive arts festivals, collaborating for community enhancement and empowering children through the arts. For more information, visit bigpicturepeoria.org.